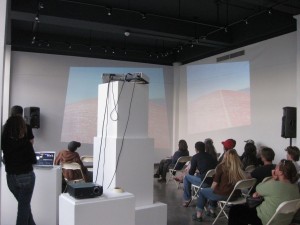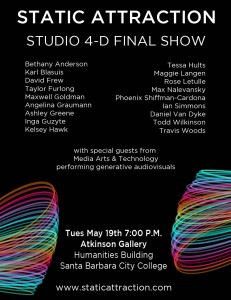 Staticattraction is our final show for New Genres at SBCC – Tuesday Night — May the 19th at 7pm —
click on image to be taken to the class website
————————————————-
Thanks to www.foryourart.com for posting some nice pics of the event at the Roosevelt Hotel, click here.
Los Angeles State Historical Park
1245 N. Spring Street, 90012
Also October 9-12 is "Hollywould", the Freewaves Video Arts Festival… a can't miss event. I will be displaying a 3 channel installation of my newest video "Grand Theft" in the pool of the Roosevelt Hotel. The Event is an opening reception for Freewaves and should be awesome… Tickets may already be sold out but it doesn't hurt to try.
On Sunday the 12th of October from 6:30 – 7:30pm, "Grand Theft" will be displayed at the Pig and Whistle on their five flat screens tvs with special guest speaker – Norman Klein. His talk is titled The World's Most Schizophrenic Street, Hollywood.