THE LENS WITH WHICH WE SEE THE MECHANIZED WORLD
•PROMOTES VANITY OF PREFRENCE:  
-CONTRAST RATIO
-LUMINANCE
-GAMUT
-SPEED
-RESOLUTION
-SIZE
SOFTWARE
New interests and activities from viewers have increased the demands on production and construction of said environments.  Such demands include a heightened stress on the communities of hardware development, software development, and budgetary constraints.  This investigation pursues a catalog of popular contemporary display technologies in the form of hardware, progressive additions to the field of surface design, and the relevance of the expressed technologies for contemporary panoramas.
The progress for software presenting visuals has evolved beyond the pictorial illusion of painting panoramas, consumers desire the immersion into panoramic environments.  Audiences aim to augment their reality, interact, and react for potentially greater understanding of new, old, and artificial surroundings.
Audience interaction and participation is a key asset to the experience in the video game industry, a commercial entertainment juggernaut that currently eclipses the previous centuries leader in entertainment revenues, the movie industry.  Interactive technologies and augmented reality have made tremendous strides in these commercial gaming areas with interactive devices such as Nintendo's Wii remote, Viacom's Rock Band interactive musical controllers, and the current release of the NATAL by Microsoft.
lllllllllllllllllllllllllllllllllllllllllllllllllllllllllllllllllllllllllllllllllllllllllllllllllllllll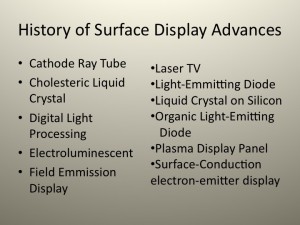 In the area of hardware development within the last decade, technologists have competed within the industry of surface display with the creation of: Cathode Ray Tube, Cholesteric Liquid Crystal, Digital Light Processing, Electroluminescent, Field Emission Display, Laser TV, Light-Emitting Diode, Liquid Crystal on Silicon, Organic Light-Emitting Diode, Plasma Display Panel, Surface-Conduction Electron-emitter Display, and Vacuum Fluorescent Display. [17]
This analysis will focus on the hardware technologies of Digital Projectors, Liquid Crystal Displays, LED displays, and Pass-through display systems.  The progressive desires stressed on surface display create a cadre of production issues related to the physical structure such as image quality, presentation flexibility, and cost.  Based on data gathered as of June 2009, the following hardware technologies represent the previous standards, current standards, and likely successors in the area of panorama surface display.
lllllllllllllllllllllllllllllllllllllllllllllllllllllllllllllllllllllllllllllllllllllllllllllllllll